PE Kit
Compulsory PE Kit:
Lealands polo shirt (unisex or girls)
Lealands shorts or skort
Lealands training pants of joggers (wide leg)
Outdoor Trainers with white white socks
Indoor Trainers (predominantly white) with laces tied
Plain dark blue or black swimming costume (swimming goggles are advised)
Plain dark blue or black swimming cap for long hair (must be worn for long hair)
NB Students will need one of the optional items for outdoor lessons when the weather is inclement.
Optional PE Kit
Lealands fleece ¾ zip
Lealands sweatshirt
Lealands rain jacket
Lealands gym leggings
Football boots with moulded studs suitable for use on the astro-turf to be worn with white socks
Only clothing with the Lealands logo will be acceptable for PE lessons.
All students should bring full PE kit to all PE lessons. If they are unable to participate for a medical reason, they should still bring PE kit to change into so that they can participate by coaching, analysing or evaluating the practical work of others. This will prevent students from getting uniform wet or muddy. In exceptional circumstances it is recognised that a student may not be able to change due to medical injury/reason. No jewellery is to be worn during PE lessons.
Buying Your PE Kit
All Lealands High School uniform items including PE kit can be purchased from either Prestige Design & Workwear Ltd or online at www.myuniformshop.co.uk.
Prestige Design & Workwear Ltd
Unit 2, Barton Industrial Estate
Faldo Road.
Barton-Le-Clay, Beds.
MK45 4RP
Tel: 01582 883222
Website: www.prestigedesignww.co.uk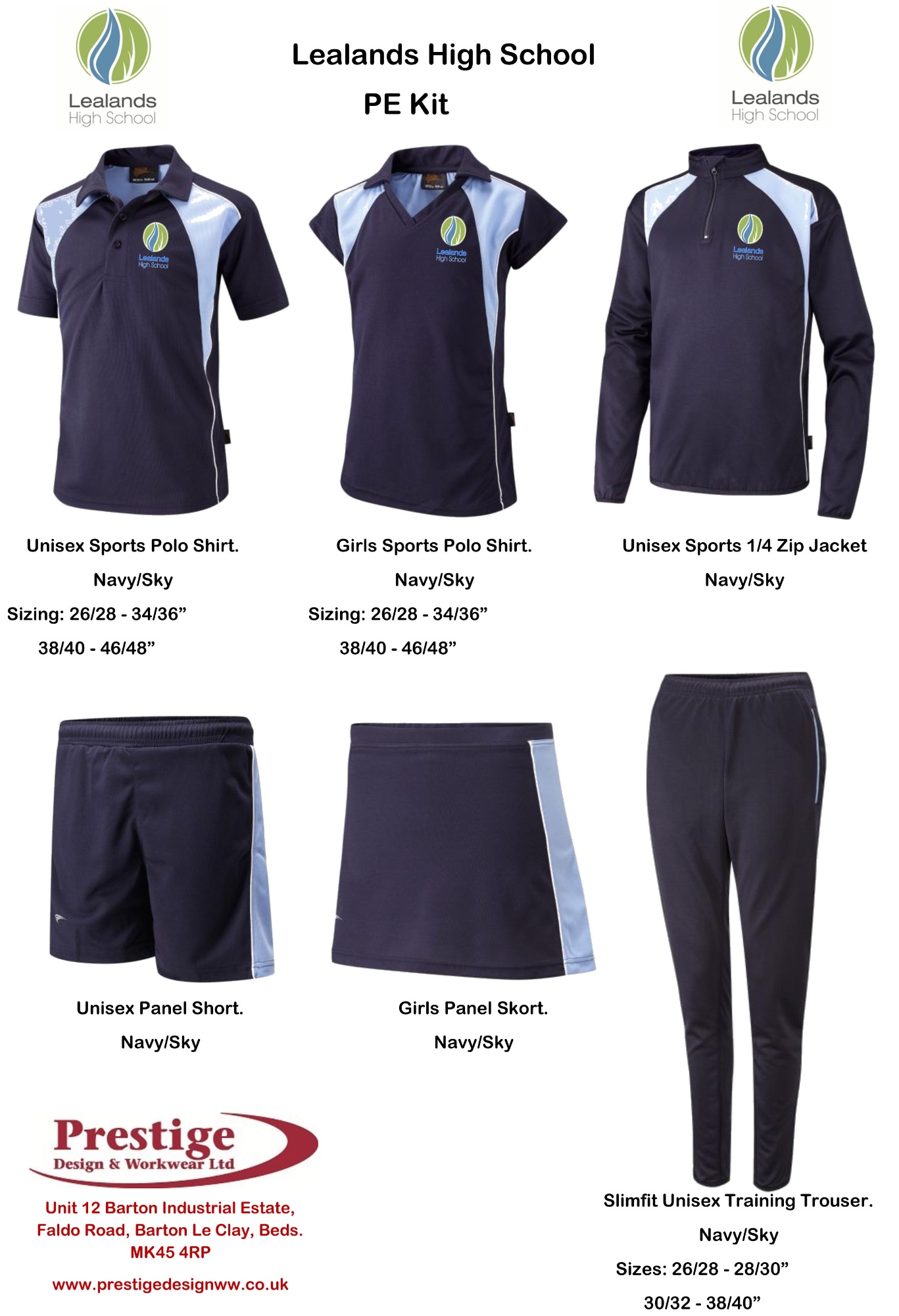 *For up to date details and prices click here