Specialism
Lealands High School was initially awarded Sports College status in 2006, and was successfully re-designated in 2010.
Specialist Sports Colleges enhance young people's opportunities to participate in a wide range of sports as well as raising the standards of teaching and learning of PE and school sport. Specialist Sports Colleges also position PE and sport at the centre of the curriculum, using it as a vehicle to develop and improve learning opportunities for all.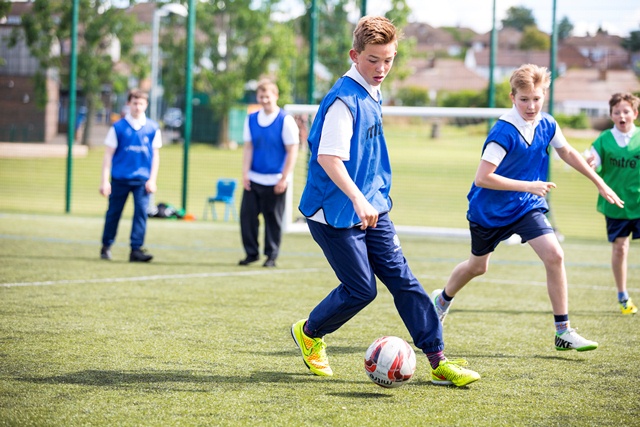 Community
Through embedded partnerships with local primary schools, community groups, sports clubs and outside agencies, Lealands' students support the local and wider community. Students work with local primary school children organising and developing PE and leadership skills during curriculum and extra-curricular activities. Activities are run during term time and holidays to enhance students' life experiences.
The school's ethos encourages links with a myriad of community groups. Local sporting clubs are given priority access to facilities which ensures that the young people of Sundon Park benefit from extended use of our 3G football pitch, sports hall, dance studio and swimming pool. We also have strong relationships with adult community groups and currently facilitate many sports and social clubs; pilates, swimming lessons, football, dance classes, fitness, lifestyle, self-defence and church groups are all currently based at Lealands. With an on-site nursery and a senior citizen group based here at Lealands we believe we are a true Community School.
Students have the opportunity to work with the majority of our community groups either through work experience placements, Duke of Edinburgh Award or as part of the many joint school and community projects that we deliver. A great example of this partnership would be the annual Christmas lunch that our catering students prepare and serve to Sundon Park Centre Trust senior citizen group. SPCT members have subsequently taken part in various charity fundraising events at Lealands.
Leadership
Through leadership and volunteering, students develop essential skills and values that ensure they lead healthy and active roles in the school and local community.
At Key Stage 3 students start to deliver small parts of their lessons and take on leadership roles in order to develop whole school leadership. Students who display a talent for leadership have opportunities at Key Stage 4 to take on extra leadership roles including awards such as Sports Leaders Level 1, Young Netball Organiser and the Duke of Edinburgh Award at Bronze and Silver level. Students who opt to study GCSE PE at Lealands are expected to lead warm-ups /cool downs, coach other students and assess performances when asked, as well as consistently performing to the best of their ability.
These leadership opportunities allow all students to develop an important set of values and take responsibility for aspects of their own learning and physical development. Leadership opportunities in Physical Education can then be transferred to other school activities and curriculum areas. Annually, each tutor group nominates a boy and girl to be their sports representative. Their role is to organise, lead and set the highest examples to the rest of their tutor group by demonstrating outstanding sporting behaviour and principles of fair play.