Young Enterprise Company of the Year County Winners!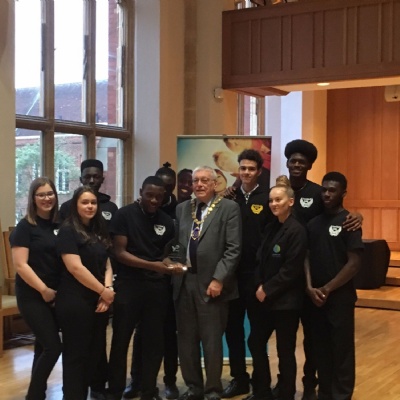 Lealands High School's Year 11 Young Enterprise students surpassed their recent success at the Bedfordshire County Company of the Year semi-finals, by winning the final and collecting a total of 4 awards.
The county finals took place on Wednesday 3rd May at Bedford School and saw six teams compete for a total of 8 awards and a place at the regional finals, which will take place in Cambridge in June.
The team from Lealands, Certified King showcased their entrepreneurial skills to the judges superbly and took advantage of the event to secure further sales of their extensive clothing range.
Certified King were presented with the awards for Best Teamworking, Innovation, Marketing and the top award Bedfordshire Company of the Year 2017 which was presented to them by Cllr David Bowater, Chairman of Central Bedfordshire Council.
These students have worked exceedingly hard to create their company and develop it into a successful business all whilst maintaining high expected GCSE grades.
We wish them all the best for the regional finals and for their exams which start in less than two weeks.