Students Celebrate Successes At Presentation Evening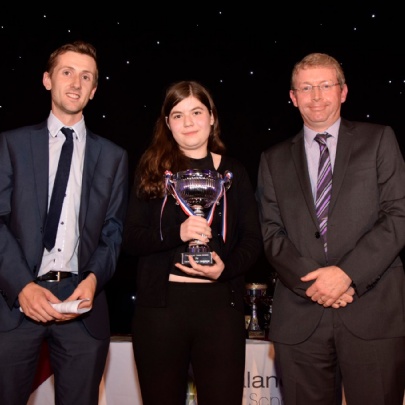 The academic successes of Lealands High School students were celebrated in style at this year's annual Presentation Evening. Over 350 students, staff and parents filled the beautifully decorated Sports Hall to celebrate the fantastic achievements of students from the previous academic year.
The school's motto to 'Aspire, Believe, Achieve' was fully demonstrated with prizes and awards in a variety of categories presented to over 100 students. These included; progress, certificates of excellence and subject commendations.
Presenting the awards and guest speaker for the evening was Professor Stephen Sweeney, who is a former student of Lealands and now the Professor of Physics and Head of Department at the University of Surrey. In 1988, whilst attending Lealands High School, Stephen was awarded with the school's Peter Scott Award for Science at his final Presentation Evening.
He said, "I was delighted to return to Lealands to celebrate the success and fantastic achievements of its students and staff. It was also a pleasure to meet with current and former staff, including some of my teachers from my time at the school. I was particularly impressed with how the school has blossomed over the years into such a welcoming and active learning environment."
Students from each year group also stood up and presented a review of the past year and their experiences at Lealands. This included the aspirations they have for the coming year and the challenges they may face.
At the end of the evening, a selection of successful students who departed Lealands after their GCSE exams this summer, were presented with our most prestigious awards. They were invited back to receive individual trophies based on their own personal successes. Their names will be forever engraved on the trophies and subsequently Lealands' history. The speeches from the teachers presenting the trophies were very emotional, and moved a few students, staff and parents to tears.
To view photos taken on the evening, please click here to visit our Gallery Page.