Christmas Concert - Thursday 13th December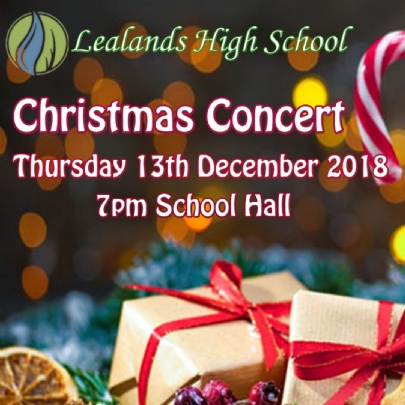 The Performing Arts Christmas Concert is taking place on Thursday 13th December 2018 at 7pm in the Main Hall.
The evening will feature a range of music, dance and drama acts celebrating the talents of all Lealands students from Years 7 to 11.
We do hope that you will be able to join with us in supporting our students. Tickets are now available on-line, or from the Finance Office at the cost of £3 an adult and £2 for students. All tickets must be purchased before the end of lunch on the day of the concert. Tickets will not be available on the door.
In accordance with our safeguarding procedures we will need to know the names of each person who will be attending the event. All students attending will be required to be accompanied by an adult within the group.
For ticket requests, please complete the form which was attached to the letter sent home, including the names of all people attending the event. Additional copies can be downloaded from our 'Letters To Parents' page.