Our Morocco Experience - June 2019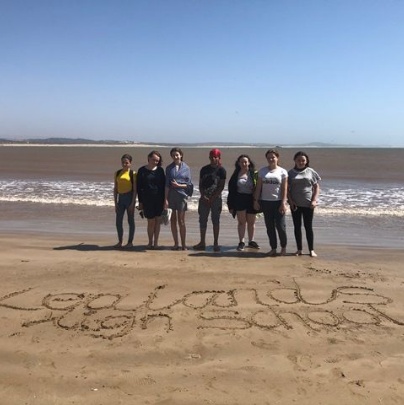 Sitting on the northern-western tip of Africa, Morocco is home to a cauldron of contrasting influences. From the moment the plane hit the runway, Morocco was filled with aesthetically pleasing attractions.
When we stepped foot into the airport, joy hit us all as we were overwhelmed that we had actually arrived. As a group we met one of the most amazing, friendliest people; our tour guide Hamza. Hamza then took us to our beautiful hotel, Hotel Oudaya, to unpack our bags and discover the pulchritudinous city of Marrakech.
Hamza showed us the most ancient mosque in the whole of Morocco before we set foot into the market. After visiting the mosque we arrived at Jemaa El-Fna Square, the market of Marrakech. So many vibrant, colourful stalls approached our eyes as we walked around. This first day for us honestly felt like a week, the amount of things we had done already was unbelievable!
Day 2 of Marrakech and we rose early and headed off to the ravishing city of Imli. This day was an incredible experience for us, as we had a cookery course. We learnt how to make the one and only traditional Moroccan food Tagine. We all as one group tried our best to accomplish the scrumptious meal. Not only that, we learnt how to make our own bread from scratch, kneading, rolling and more.
For lunch, we had the most wonderful family create our food for us. We also tried their homemade tagine which was ten times better than ours.
Afterwards, we set off to our next hotel which was near the pleasing Atlas Mountains. The hotel served us dinner and we were off to sleep, for the next day.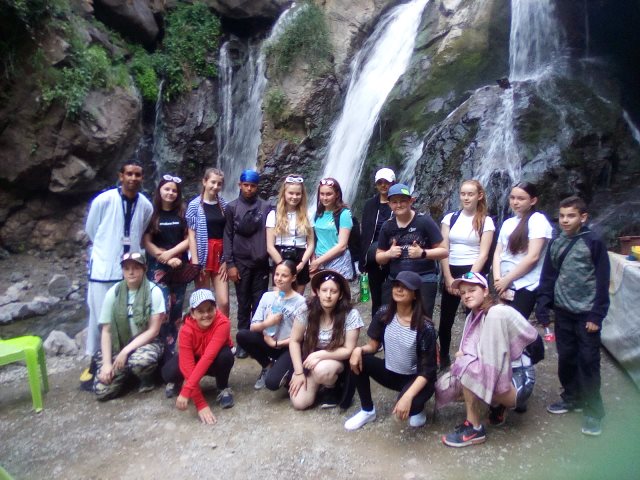 Day 3, we were still in Imli, but we decided to trek to see the dazzling waterfalls. Oh if only I had words to describe the gorgeous waterfalls. After that we went on another journey to discover an elegant tourist attraction, it took us time to trek up, but when we did, it was all worth the wait. We took loads of photos and videos of the astonishing place. As a group we all headed back to our third hotel. Oh wow three hotels and it's only been three days, what a luxury we have been living. The hotel was absolutely ravishing. We stayed there overnight.
Day 4, time started to go so quick we were just having so much fun. We set out to trek even more to see more attractions. We started to trek up a road which led to a tourist destination, where we took more photos and videos. We then returned back to the bottom and had lunch, then started our journey to a camping site. This camping site meant so much to us, as it was the place our tour guide, Hamza, grew up in. We were all being respectful as in Morocco it's very different to how we live in the UK. The tents were so colourful and nice to sleep in. After we had dinner, we watched a show of traditional music playing, singing and dancing which we joined in with, it was so much fun, I wish I could go back!
Day 5, we rose as early as 5:45am to see the sunrise on the mountains. Unfortunately, we couldn't make it in time but we still took loads of photos that still looked great. We started to head back to our first hotel, but before we got there, Hamza set us a mission. He wanted us to bargain with the locals for our lunch. Of course we set ourselves to achieve the goal and we had bought; 1 yellow Melon, peaches and bananas for 35 Moroccan Dirhams! That's about £3.50 or less, what a bargain. When we finished lunch we headed back to Marrakech leaving the beautiful Imli.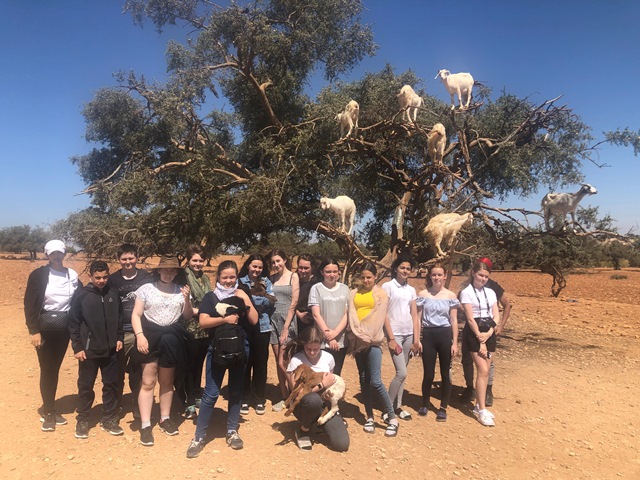 Day 6, our time was coming to an end. Hamza our tour guide decided we should go to the coast of Morocco! On the way to the coast we met FLYING GOATS! Yes, you read that right, who can imagine, flying goats? We held the goats in our arms, wishing we could take them home.
Another stop we had was an Argon oil factory; it was an excellent place for those who live for argon. The polite lady was so caring towards us and showed us how they made argon oil. When we reached the coast, the food was absolutely delicious; we had fresh fish that tasted so delicious it was unbelievable. After the meal we took more photos and videos and most importantly had time to shop! We then strolled down to the fish market; you would not believe the amount of fish that were laying there. It was a good experience for us. Hamza then took us to a stunning synagogue. We arrived back to our hotel, sad that tomorrow was our last full day.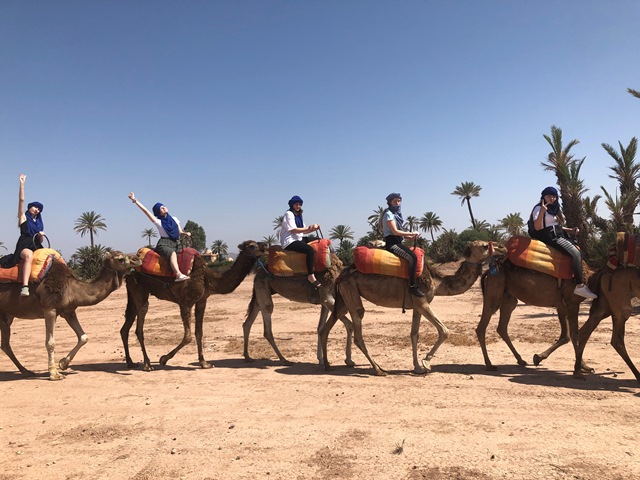 Day 7 our last day! Our last full day in this captivating country. We started off with camel riding in the morning. We got kitted out with head scarfs for our walk through the oasis. Camel riding was super cool! I wish we could do it again there was so many baby camels following us, it was adorable. So far, my favourite experience would have to be camel riding. It lasted for over 40 minutes, but it felt like 2 minutes, it went by so quick. When we finished camel riding, we entered the beautiful market again, to purchase our souvenirs.
After finishing all the activities we ate in an extravagant restaurant, with a scrumptious meal of cous cous and chicken. We then watched another show from a belly dancer, who had a tray on top of her head with candles. She was a professional. We stayed in the market till the night, and it looked absolutely exquisite.
Day 8, we woke up early to catch our flight back to Luton. We all were so upset, but it was an experience I am going to live to remember for the rest of my life. We were extremely sad to leave Hamza behind and hope that one day he can come and visit the UK and stop off at Lealands!
#WorthTheClimb #ClimbTheMountainToSuccess
By Halima, Year 10
To view more photos from our trip to Morocco, click here to visit our Gallery Page