Luton Foodbank Christmas Donation Appeal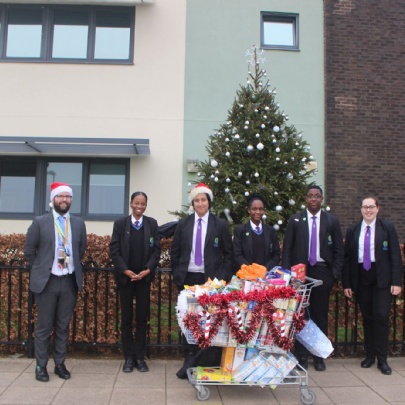 We were delighted, once again, to be able to support the Luton Foodbank Christmas donation appeal this year.
Our Year 11 Charity Ambassadors did a fantastic job in collecting and reorganising the donations in a trolley donated by our Mitie staff. They also did a wonderful job of decorating the trolley to give it a bit more Christmas spirit! Apologies that we were not able to take on Mr Cullum's suggestion of a Bluetooth speaker outside to play some Christmas music in the mornings; the temptation to sing along would have just been too much!
Our Year 11 team of Charity Ambassadors and some dedicated extras, braced the cold from 8:30 every morning for 2 weeks, to welcome and collect the donations, then organise them in a tidy order; tidiness is not my forte, so I am told!
We received so many donations, that it took 2 cars to deliver them across to the Luton Foodbank.
Thank you to all of our families for supporting the appeal with donations and making it such a success.
Thank you to Mrs Bonnard, Mrs Hodsden and everyone who was able to help our students in the morning and for their eye to detail.
Thank you to Mr McCracken and Mr Mahauad for their cars and help with delivering the items.
Lastly, thank you to Emillia (our lead charity rep) and her outstanding team who were responsible for collecting the donations and spreading some festive cheer.