Lealands Remembers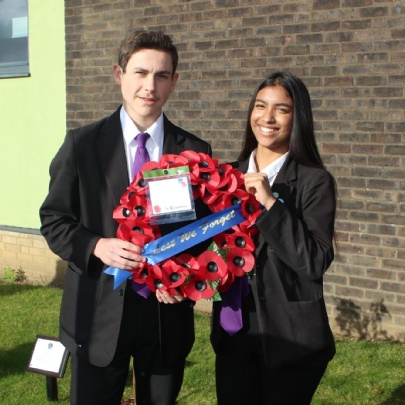 On Friday 10th November, students and staff from Lealands High School gathered together around the school's memorial garden for a service of remembrance. The service began with 'The Last Post' played by maths teacher, Mr Maurice Patterson, followed by a two minute silence to honour those who have given their lives during conflict.
Following the silence, Head Girl, Marium Ullah and Head Boy Henry Bloom, recited the poem 'Taking a Stand', and Headteacher, Mr John Burridge, laid a poppy wreath next to the Lealands memorial tree. A representative from each tutor group stepped forward and planted poppies and poppy crosses alongside the wreath.
Students were given access to the garden for the remainder of the day, if they wished to lay their poppies privately.
Following the event, Headteacher, Mr Burridge said, "Our Remembrance service was a very moving occasion. Our students and staff came together showing great respect and dignity in remembering those who have and are still sacrificing so much for us. It was a real show of unity among the whole school community."
In addition to the service of remembrance, on Saturday 11th November, Lealands' Humanities Department took 44 students to visit the WW1 Battlefields of France and Belgium. The trip included a guided tour of the Ypres Salient area in Belgium which was the scene of some of the biggest battles in World War I and the Memorial Museum Passchendaele. This was a wonderful opportunity for students to learn the true meaning behind Remembrance Day.