Lealands Crowned Rotary Tournament Winners!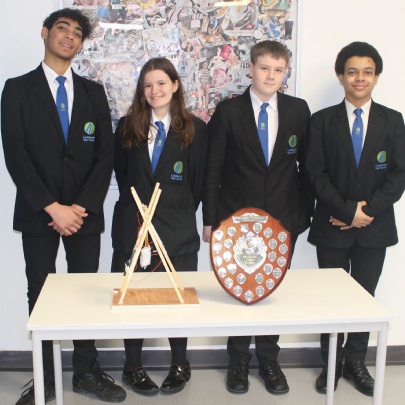 On Friday 6th March, Miss Wright and Ms Lowery had the pleasure of taking a group of 8 Year 9 students to the annual Bedfordshire and Luton Rotary Technology Tournament at the Stopsley Baptist Church.
Students worked in teams of 4 and were required to design and build a flashing beacon with a number of required features.
Our students worked extremely well throughout the task, demonstrating creativity, analytical and critical thinking, the ability to work well in a team and a range of designing and engineering principles.
On completion, the students had to test their creation in front of a panel of judges. It was evident they were in with a chance of superseding the seasoned winners due to the very impressed expressions on the judges' faces.
Students were commended on the final product, the design portfolio and the quality of the advert.
After the deliberation, they waited with baited breath for the announcement of the winning team.
It was worth the wait as… one of our teams won, achieving first place in the foundation team category. I think you may have heard the screams from them all the way from Stopsley!
Congratulations to all involved, exemplary behaviour and outstanding attitudes to learning were demonstrated throughout the day.
A huge well done to Joshua, Niamh, Harry and Thomas, our winning team, for putting Lealands on the Rotary map!
Our fantastic teams:
Team 1:
Team 2:

Elizabeth
James
Emma
Andrei

Thomas
Harry
Niamh
Joshua