PE Kit Years 9-11
Lealands High School's current PE kit can be viewed below.
Students should have the correct PE kit for lessons, including those excused for medical reasons. These students can coach referee or help other students analyse and evaluate their work, which is a valuable part of the National Curriculum in PE. It will also make sure students do not get their uniform wet or muddy when outside. Students who do not have correct kit must have a note from their parents/carers.
Appropriate footwear must be worn: outdoor trainers or boots (only traditional moulded studs can be used on the astro-turf - blades and screw in studs cannot be used) and indoor trainers (preferably white). All laces must be properly tied up for lessons.
If students have long hair, it must be tied back.
For swimming lessons, students will need a towel and a dark blue or black swimming costume/trunks. We also advise students to bring goggles and if they have long hair, they must have a swimming cap.
We advise the wearing of mouth guards for certain activities such as football.
No jewellery to be worn during PE lessons.
Students failing to follow the above will be given an appropriate sanction.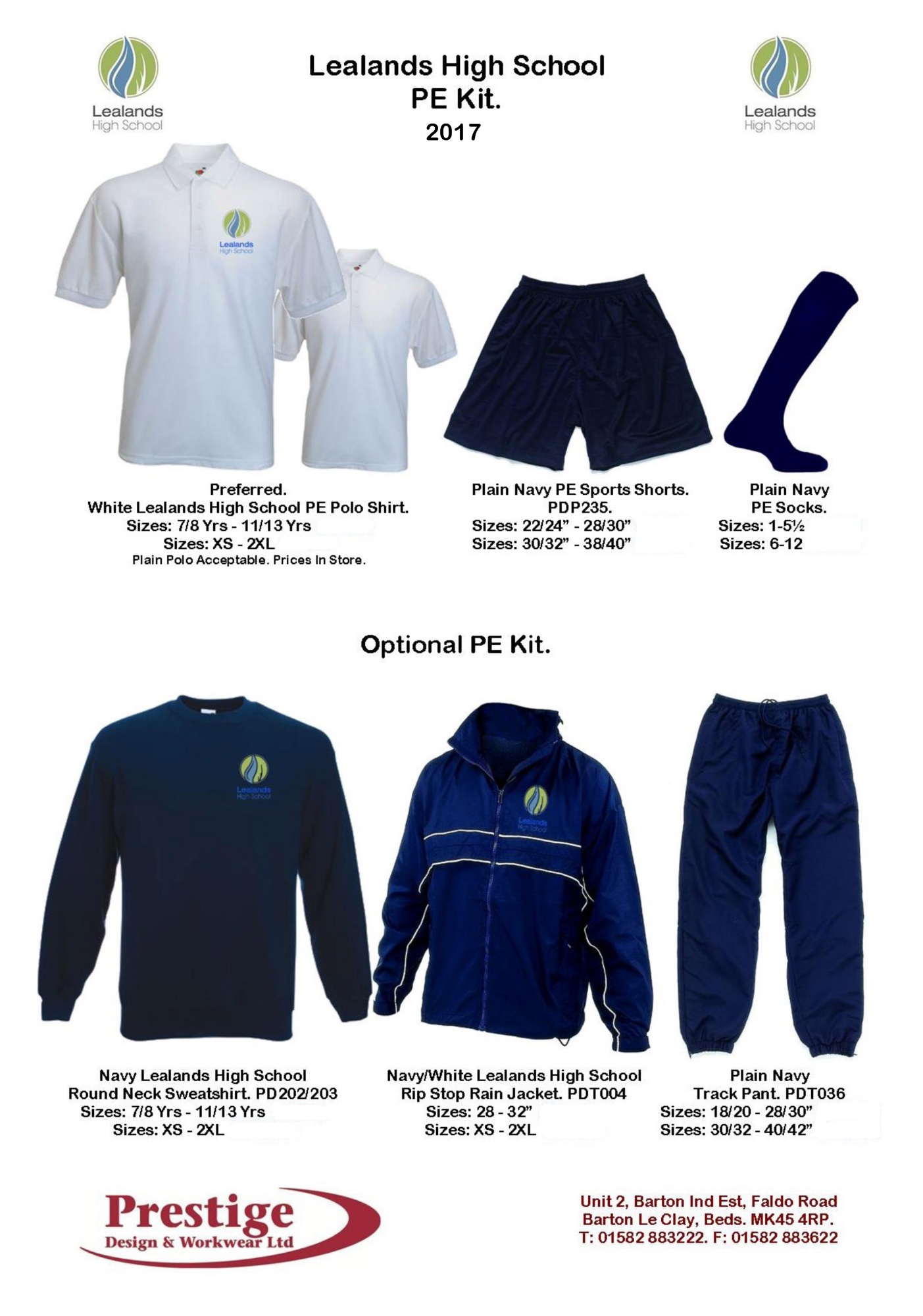 In September 2018, we launched our brand new, cost effective PE kit which is compulsory to all of our new intake of students. The PE kit has a modernised look and many new items will be made with heat and cool tech fabric. This fabric increases the quality of the PE kit, holding its shape and colour better, increasing drying time after washing and eradicating the need for ironing.
The new PE kit is currently only compulsory for Year 7 and 8 students. However, it will be available for students of all year groups who may need to purchase new kit during the remainder of their time at Lealands. To view details of our new kit click here
Buying Your PE Kit
All Lealands High School PE kit and other uniform items can be purchased from our supplier - Prestige Design & Workwear Ltd either in store or online.
Unit 2, Barton Industrial Estate
Faldo Road.
Barton-Le-Clay, Beds.
MK45 4RP

Tel: 01582 883222

Website: www.prestigedesignww.co.uk

Shop Opening Hours:
Monday - Friday: 9.00am - 5.00pm
Saturday: 9.00am - 1.00pm
Sunday: CLOSED